THE WILDS OF THE PINE RIVER VALLEY, NIAGARA ESCARPMENT, ONTARIO, CANADA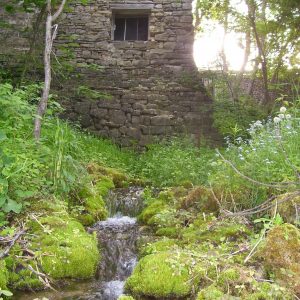 Artist in Residence at Wild Mill Studios
Welcome to our tri-level live-work studios & pond-side gardens in a historic hamlet on the Niagara Escarpment, in the watershed river-valley wilds halfway between Lake Ontario and Georgian Bay.
We support a wide range of practices while hosting solo artists, collectives or collaborating groups.
We proudly present artist talks, gallery shows, house concerts, performances, dinners, salons & symposia.
We believe in community, and share ours with you and yours.
THE STORY OF THE WILD MILL STUDIOS
We are in love with the exquisite Niagara Escarpment lands that roll across the Pine River Valley around The Wild Mill Studios. We grew up here and have family roots dating back six generations to the original settlers of this area. We have since traveled to find that this Pine River Valley is our centre of the universe, right in the middle of nowhere; we believe it to be one of the most beautiful and idyllic places on earth. We thrive on being perfectly situated between all that world class city Toronto, artsy beach town Collingwood, and the charming neighbouring villages in between have to offer, while enjoying a remote rural lifestyle in the heart of a strong community.
When we built our dream home through the complete remodelling of a century mill and historic property (pictured here in the 1930's), we had a vision to share our personal countryside paradise with artists and creatives.
We are artists and entrepreneurs ourselves, so we understand the joys and challenges of navigating the unique course of your creative life. We love to meet creative people, and share our amazing community of artists, musicians, writers, and adventurers with new friends.
With all the flexible space and studio amenities we have designed into our modular tri-level labour of love, and with all the spectacular hiking, cycling, skiing, fishing, swimming, riding, eating, sightseeing and relaxing to be done in this world class agricultural and Unesco Biosphere Reserve escarpment countryside, we offer our support and space for the work and time it takes to develop and sustain a thriving artistic practice.
extended resources beyond the wild mill studios
A historic Community Hall offers over 2000 square feet of production or rehearsal space. With many windows, vaulted ceilings, hardwood floors, a piano, washrooms and kitchens, it's a convenient place to expand your practice or host a public event just a short walk down the street from The Wild Mill Studios

Art materials, supplies and specialty art production services can be delivered or arranged for you during your stay. Off-site painting studio space is available

Sound engineering or additional off-site recording studio space can be arranged

Gallery tours to several of the area's most prominent and dynamic art exhibitors are a short drive away at The McMichael Art Gallery, The McLaren Art Centre, The Alton Mill, the Art Gallery of Guelph, and The Tom Thomson Art Gallery

A private chef is available to fuel your creativity and keep your time focused on your art practice, while showcasing the best fresh ingredients that our onsite gardens and surrounding single family farms produce each season
STUDIOS, amenities & accommodations of our lovingly restored century mill
Sunlit painting and drawing studio with drafting table, easel, desk, projector; and adjacent great room, piano, art library, woodstove, chef's kitchen and pondview loft bed on the main level

Workshop and analog music lab in the mill garden-level apartment with full bath, kitchen, laundry, and stone-walled pond-view studio bedroom with gas fireplace and private stream-side terraces / entrances.

Writers bedroom retreat with desk and reading lounge on the upper level, with adjacent four piece bath featuring large claw-foot tub and rainfall shower

Terraced organic vegetable gardens, patios, firepits, springs, rivers, ponds, and nearby parks, trails, and conservation lands

The least remote of our wild places, the mill offers another kind of escape that is a return to community and rural tradition, with countryside comforts and amenities such as cozy bedrooms, soaker tubs and wifi